在外游荡了20天回到家中,久久不能平静,时而翻出手机里的照片回味,心中充满太多的酸甜苦辣与无限感慨。
We spent more than 20 days in London, I am glad to be back home (Awww home, sweet home). Oftentimes, I browse through my phone to relive those unforgettable memories of the life in London with my swag team. There are still a million thoughts going through my mind now.
华为巴展(MWC 2020)初期竞标从11月1日Day 0 Brief开始到11月28日公布中标结果历时28天;预热会项目跟进从11月29日开始到2020年2月21日活动闭幕止,共历时85天,接近3个月;前期竞标+后期执行共计113天,是单体项目持续时间较长的一个华为项目。
The first time of knowing that THP has the honor to take a part in the bidding for Huawei MWC2020 events was the first day of November in 2019. I was in charge of leading team Day0. From the first time the brief released to us submitting the proposal, and till the announcement of us wining the bid, we have been through almost a month. If you are also in this industry, you will know what am I talking about, the feeling of uncertainty of mine is consuming me every day in last November, hopefully, I could have a easy November this year (just kidding, I love the storms in life, which keeps me awake and motivates me to achieve more)
Team Delta 成员代号
老干部:稳得不行,很多时候客户比他急
Veteran cadre:Peaceful,Most of the time, clients are more anxious than him
大金链子:外表像打手,内心似少女
Gold Chain:Looks like a thug, fragile like a girl inside
天霸:比变形金刚还要硬的钢铁直男
Sky Bully:A steel straight man harder than a transformer
本本本:居家旅行必备好男人
Ben Ben Ben:Good man for home and travel
刘工:工作默默无闻,喝起酒来一把刀
Engineer Liu(Girl):Work silently,but drinking like a sharp sword
撒姐:风里来雨里去,高跟鞋不能湿
Sasa:Rain or shine, always keeps her high heels sharp
一个听起来吊儿郎当的组合但我们还是相当专业的,作为一只突击小分队在接到华为巴展项目的需求后主动承担了北京和伦敦预热会两场活动。
It sounds like an unprofessional team to you isn't it? Actually, here is where the turn comes in; we are an excellent professional team. As an alternative but yet super professional team, we undertook the arduous task of hosting the Pre-MWC 2020 Beijing and the Pre-MWC 2020 London.
北京和伦敦预热会原定时间分别是2月17日和2月20日,时间过去真的太快了,还是12月初的时候开始做方案策划,北京预热会在华为EBC自己的场地,第一次安排北京同事去看的场地,几个人对着照片和平面图横看竖看始终对不上方位,在办公室对着平面图一边视频一边确认位置,结果发现这样效率太低,还是决定亲自去趟现场走一下。
The event in Beijing was going to be Feb.17th of 2020, and the one in London was Feb.20th of 2020. Now, you realized the time gap between the two events is three days apart. But if you count accurately, it would only be 2 days apart. We started our first proposal in the beginning of December last year. Luckily that Huawei offered to use their venue, which is EBC to host the event. The first time we arranged site inspection with EBC was inefficient. Therefore, Alex and I went to EBC Beijing on our own.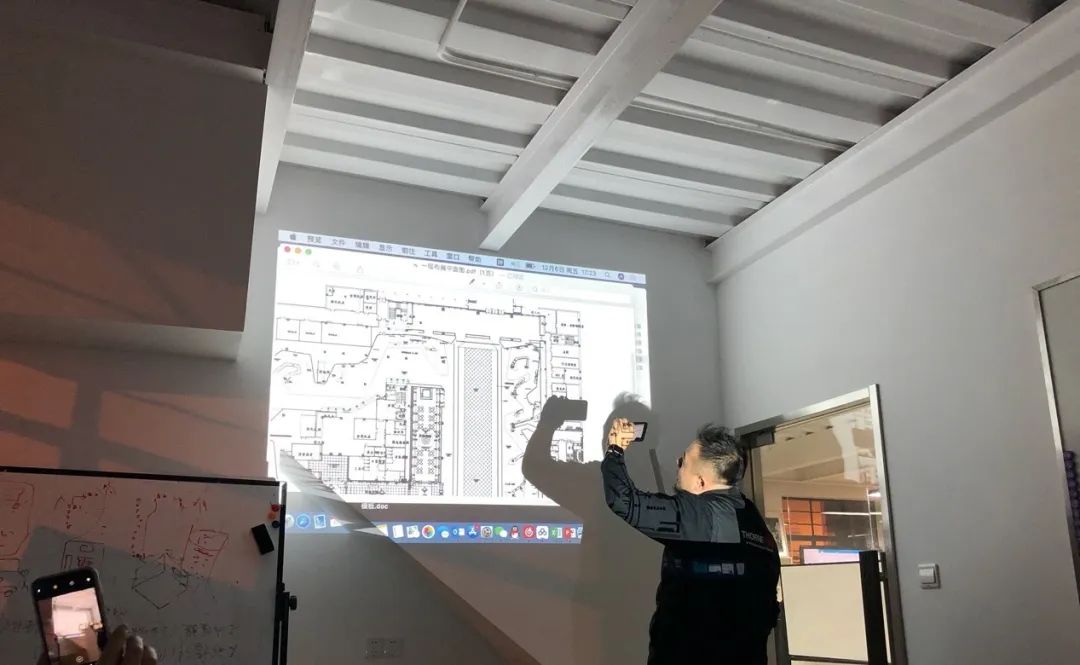 大金链Alex很认真的在了解场地信息
北京一日游之后,回来方案做的还算顺利,前期客户催方案催的比较紧的时候加班成了家常便饭。
After one day trip to Beijing, we were back in Shanghai. I figured we needed to straighten out a couple of things; therefore, I dragged the whole team in the office on a Saturday night ( Don't get me wrong, they would love to see me during the weekend, cause we always say THP is a lovely family). Since then, we had always stayed for extra hours to work and team bonding.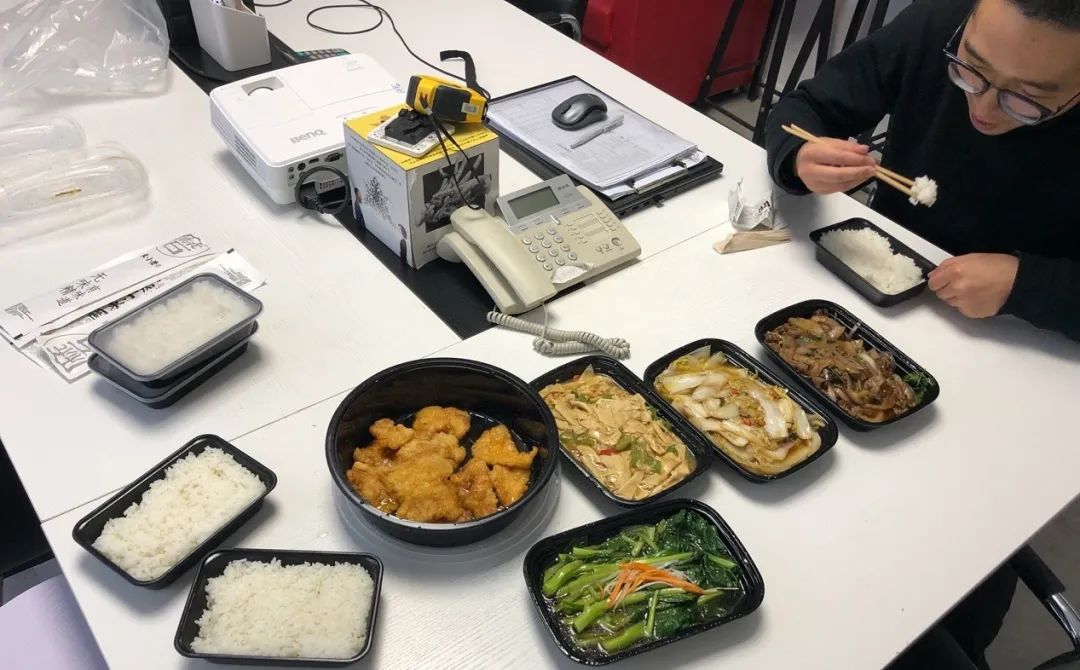 加班吃外卖变成常态,你看天霸吃得挺香的,想必是因为有我在吧
高能预警:期间碰到公司年会又要更新方案,天霸和撒姐两个人直接扛着两个台式机参加年会,硬是在喝酒间隙刷了一版方案,客户吐没吐槽忘了,反正天霸异常兴奋,而撒姐在当完主持人后直接挂了,挂了…(需要澄清下那是高兴的).
Well, updating proposal is like my everyday skincare routine. The tricky part is that annual party of THP is like my yearly inescapable SPA. Since we were having it up in the mountain, so it makes it difficult for us to update the proposal by just using a laptop to do all the 3D and graphic work. As the saying goes, where there is a will, there is a way, ZZ and Savannah decided to bring their desktop with them to the mountain. ZZ was happily agreed with the plan, where leaves Savannah with no choice (alright alright, she was forced to, but still she managed a way to numb herself the fact that she was taking the desktop with her the whole trip).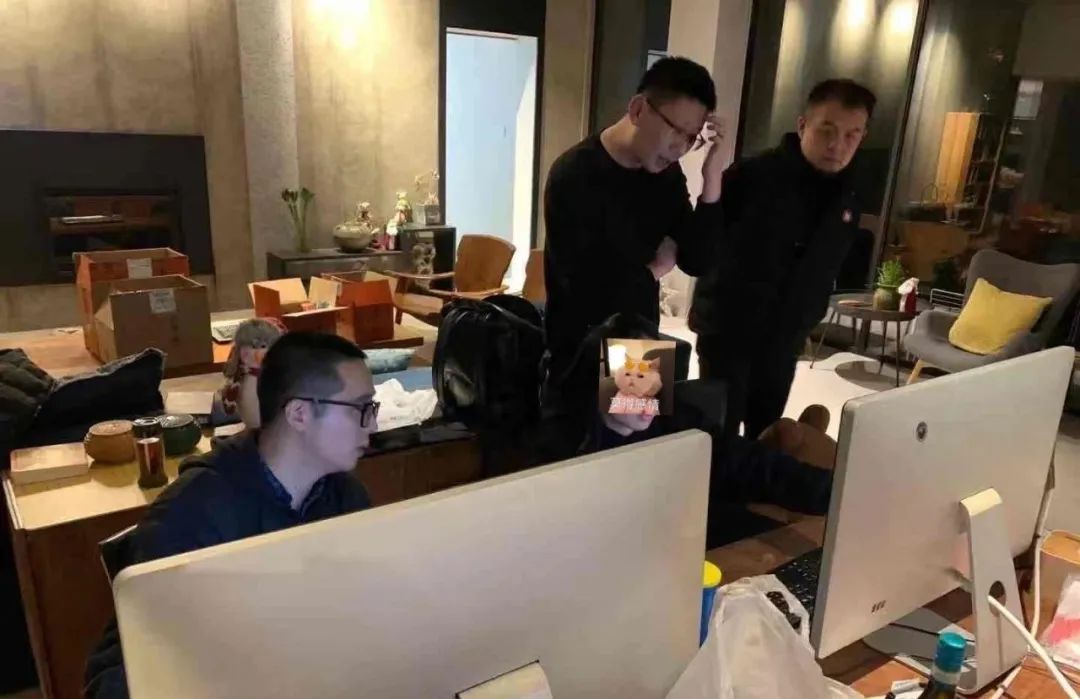 在莫干山带了台式工作的两位设计霸主,撒姐没化妆是不可能露脸的
原本计划开开心心过大年后2月1号直接北京开整,形势突然急转直下,在国内疫情爆发的第二天1月26日,北京预热会被取消了。
Under the worst circumstance of corona virus, our construction plan in Beijing was ruined, following up with cancelation of Pre-MWC Beijing.
春节的几天国内形势瞬息万变,湖北人天霸留在了上海没有回去,高速路进出上海也要截流测体温,SARS之后这是全国第一次,可想而知作为有项目任务的一帮人,我们的内心也是跌宕起伏。
Even things have changed drastically, but just a reminder to you that as workaholics, nothing can stop us doing our job.
得到的消息是巴展照旧,伦敦预热会照旧,但是项目人员必须提前14天抵达现场以证明现场人员的健康,也就意味着我们Team Delta也需要提前出发了。
Because nothing pause yet, London project was on the process, then we were on the mission of making it happen.
老干部离开伦敦已有10多年,再次登陆英伦多次被嘲,怎么让你安排个能吃饭又能开会又便宜的地方都安排不好,本本本问了几次这条街叫什么,老干部着实有点冤枉。唐人街还是那个唐人街,超市,餐厅,药店,理发店一应俱全,现在更有了奶茶店。
I have been left London for more than 10 years already. The very first time returning back to London I have been laughed at for many times. They complained about the place I took them to dine in and the streets I took them walk on. Chinatown is still the Chinatown that I remembered, and it hasn't changed a bit to me. Well, the frying bread sticks' price is not what I was expected, and there are a few new added milk tea shops that Kathy and Savannah wouldn't move every time we passed by. Other than that, I still see London as it is ten years ago.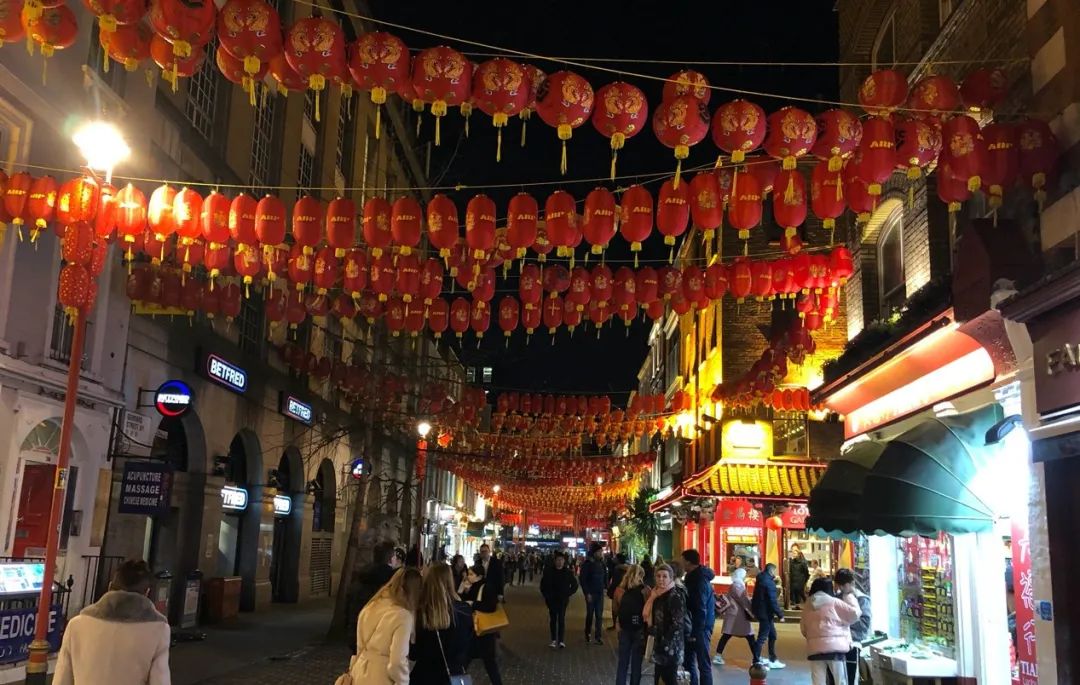 还是熟悉的那些红灯笼,我感觉还是那个10年前的唐人街
3

砥砺前行
在伦敦住了一周之后,感觉时间过的无比慢,项目细节也确认的七七八八准备开开心心进场。事情转变就在这个时候,疫情的发展出乎意料,巴展主办GSMA在2月12日夜晚官方宣布取消大展,呆在伦敦的Team Delta有点忐忑,是否伦敦也会取消?不取消的话伦敦的项目是否照旧,是否有变化?想什么就来什么,隔一个周末马上就进场了,现在客户还在问活动如果要提前是否可以,如果第二天在另外一个酒店同样的配置来一场是否可以,还有没有能力做一些道具诸如此类的棘手问题。
A week in London is like a week in slow motion. The project was going on a smooth process, but who knows corona is like a ghost, shadowing the whole world. GSMA was forced to canceled MWC in Feb.12th, we were worried that London might canceled as well, since there is no MWC, pre-MWC makes no sense whatsoever. However, London event has continued. The tough part is that since MWC canceled, all the other important launches were moved to London. The clients wanted to added more meetings to the London project, they even requested to rent another venue to host more meetings, which was impossible to achieved, due to the lack of time, but we have already done more than we could.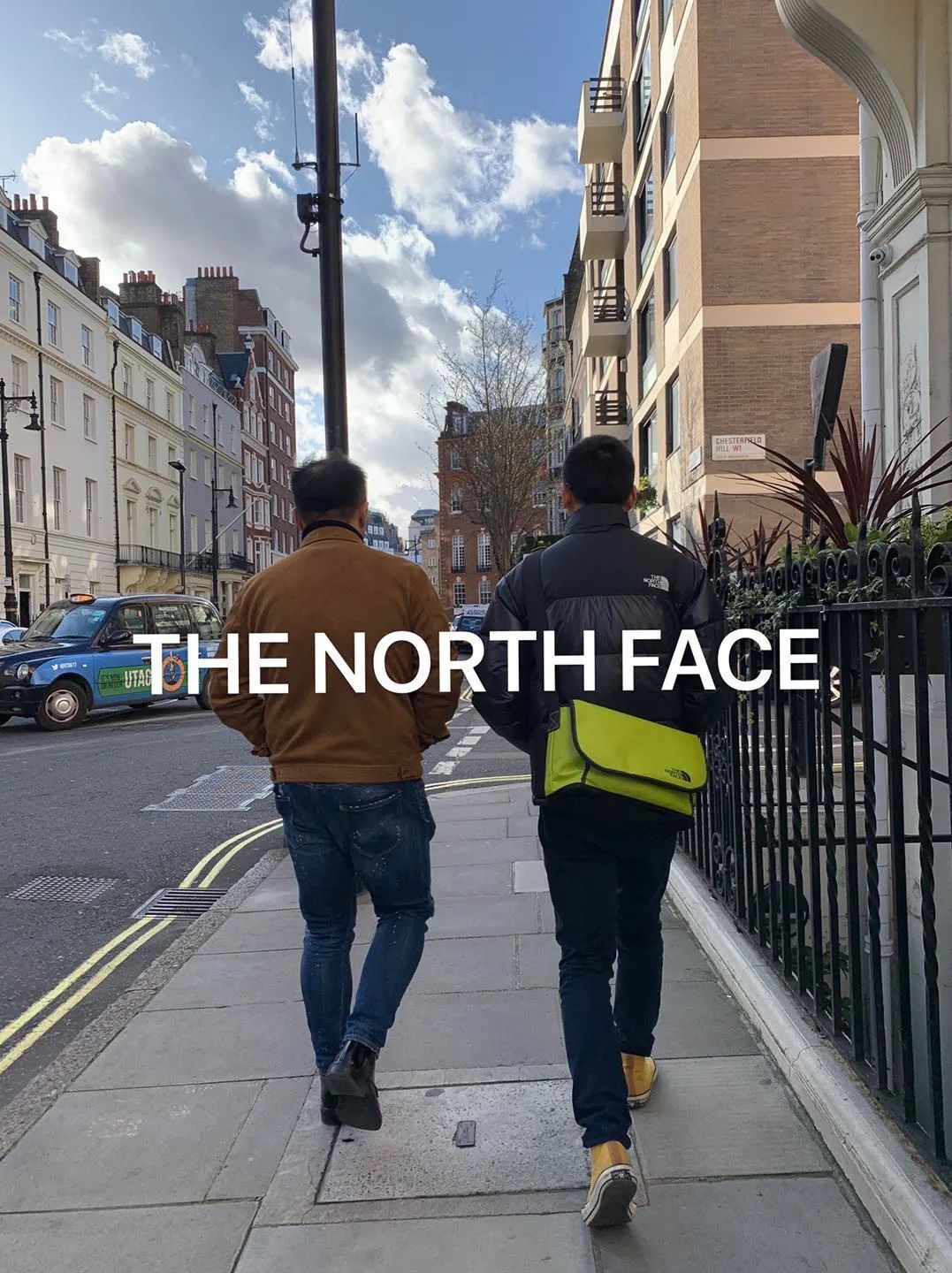 老干部和大金链马不停蹄地前往The Dorchester。大金链Alex总是那么时尚臭美,你可以说我不潮但是我也有自己的时尚信仰,我为The North Face代言,忠实粉丝,毋庸置疑。
虽然非常不情愿做任何调整,但我们依旧去做了确认工作,工人和货车无法提前抵达意味着无法提前开始;相距活动仅剩一周时间不到,第二个场地我们没时间和额外团队跟进;但在确认的过程得知一个好消息是这次活动的酒店The Dorchester London在后面两天有档期,我们给到客户中肯的建议是第二天的活动加在同一个酒店,设备与人员可以做相应调整!

The workaholic side of us has defeated the laziness in us. Our dedication and efforts makes all clients' extra demands fulfilled.
信息反馈给客户之后是焦灼的等待,在和客户沟通的时候始终无法得到确认信息,这种感觉让人很不踏实,这个时候无法轻易做任何决定,不做决定意味着压力都集中在自己身上,在海外做项目所有资源的安排都需要时间,我们剩下的时间已经到了极限。
We were informed that the Dorchester has room for us to rent for an extra day, and then we reported to the client. Honestly, after countless times communicating with the clientwithout any positive responses, I was frustrated for a bit. The process is like a relay, except I am not taking anything over, nor handing off anything. I was counting on the client to make decision immediately, and then my team was expecting me to give orders, so that they can continue their tasks.
客户说需要15台电视,我们随即安排了15台55寸,第二天说电视机全部要4K,确认之后是4K的稍稍放了心,过了一段时间客户又更新了需要的设备清单,最好全部是70寸以上4K;客户没有说要不要电脑,在询问之得知客户需要十几台动辄1–2w高性能笔记本,这还是这么多更新需求中的一个。
The client's demands were changing repetitiously. However, we still managed to tackle every problem that came to us.
等待2天之后,活动最终确定下来从原本的半天大会+分会增加至1天大会+酒会+2天分会+半天参观,会议人数从150人增加至250人。项目变动非常大,巴展的很多发布内容和展出内容都在尽可能搬往伦敦,大量客户也从巴塞罗那赶来伦敦,在评估了现场工作之后,在巴塞罗那的Team Alpha 4人组前来支持,一人做整体把控,一人分管分会场需求,一人分管现场第三方人员,一人分管摄影摄像需求。为了配合彩排,2月17日晚搭建团队提前一晚进场!所有人员进入现场工作状态。
Four days before the event, we finally know the final schedule of the event and it has change drastically. More attendee would arrive to the event in London from Barcelona, which mean the increased workloads were exceeded our team's capacity. At that critical moment, the team alpha from Barcelona offered to help. We are appreciated; let's applaud them for the help.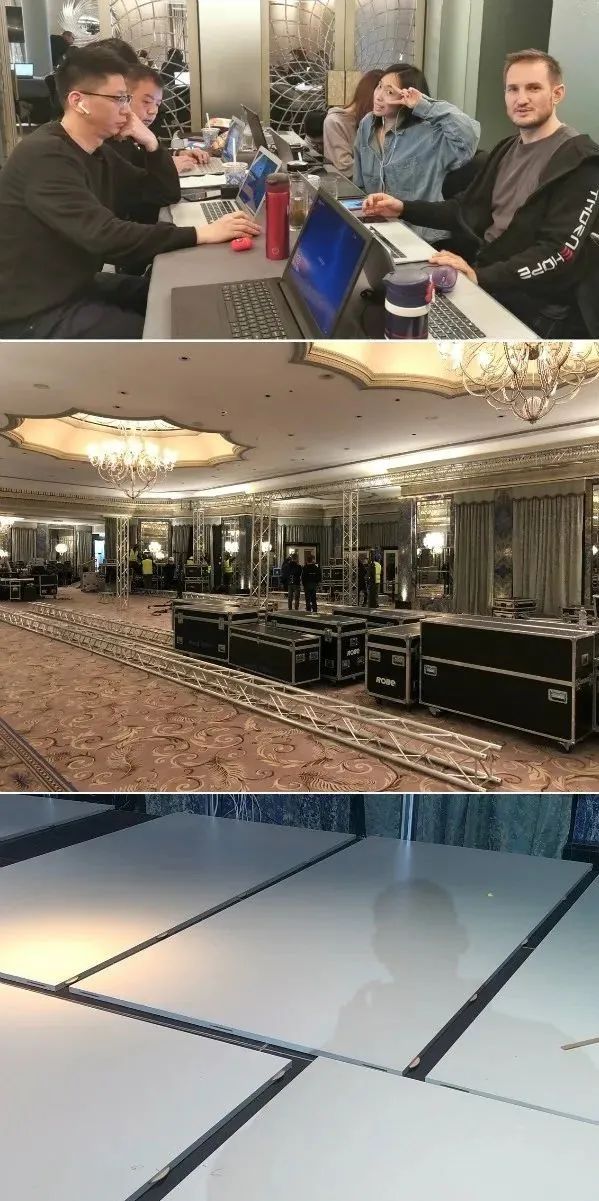 THP都是一群Workaholics, 当然我们还是坚持work hard, play harder 的原则
现场需要现场直播,现场连线,现场返投,现场录音,现场传输同传音频信号等,这些都是到了搭建现场才得知的需求,AV团队带来备用的十几根音频视频线材全部用完,设备插口全部插光,最后不得不跟客户解释之前准备的设备已无法支持更多新增需求,请求理解。
A lot of new AV requests from the client that we could not satisfied, because the stocks our supplier brought along with them were not enough, since the AV team arrived in London before the situation changed.
18号一天时间完成90%搭建,19号9点内部彩排,11点开始最重要的激光发布彩排,下午全流程彩排,到晚上7点包括我们的工作人员以及客户统一休息1小时,最后再连彩2遍,所有事情基本都按照预定计划稳步推进。主会场外的同事也完成了8个分会场布置彩排,签到系统测试与数据导入,第三方人员培训,签到及消毒物料的准备,电子屏幕的画面更新,展区设备支持也已到位。
On the 18th, we finished 90% of the site construction. We started the rehearsal from 9am on the 19th. We rehearsed for multiple times till 9pm. Rundowns in the ballroom and all the other meeting rooms were know well by the team and the client a day before the event. All the other things were ready, such as personnel's were well-trained, digital platforms were well-prepared, and all the requested sanitized items were well-placed.
在进场期间,每天结束的时候10人团队会做简单例会,对各自手头工作的完成情况作梳理,检查风险点和疏漏点,对第二天工作作具体分工与布置,项目进行到这个时候,已经基本适应了之前的诸多变化,针对客户合理的要求做跟进,对于客观无法实现的要求给出合理的解释。
During the event, we would have a summarize meeting every day after work. Sorting everyone's task and then make reflections and improvements.
由于前期准备工作做的充分,20-21号的两天活动进行的非常顺利,参观结束后活动圆满落幕。2020年注定是一个不平凡的一年,疫情在继续但已经持续好转,能够在这段特殊时期顺利交付一个项目,靠的还是团队的齐心协力与客户之间的持续有效沟通,非常不容易。
Because of our well preparation, the event went well. The starts of 2020 is extraordinary, first is the corona virus, then who know what difficulties we might face later? However, hopefully along with improvement of the stopping the virus, better luck will comes along. After all, it was a great experience working with my team and Huawei. London was great, all is well.
话已经太多了,来点图片轰炸吧
当然啦精彩大图来了…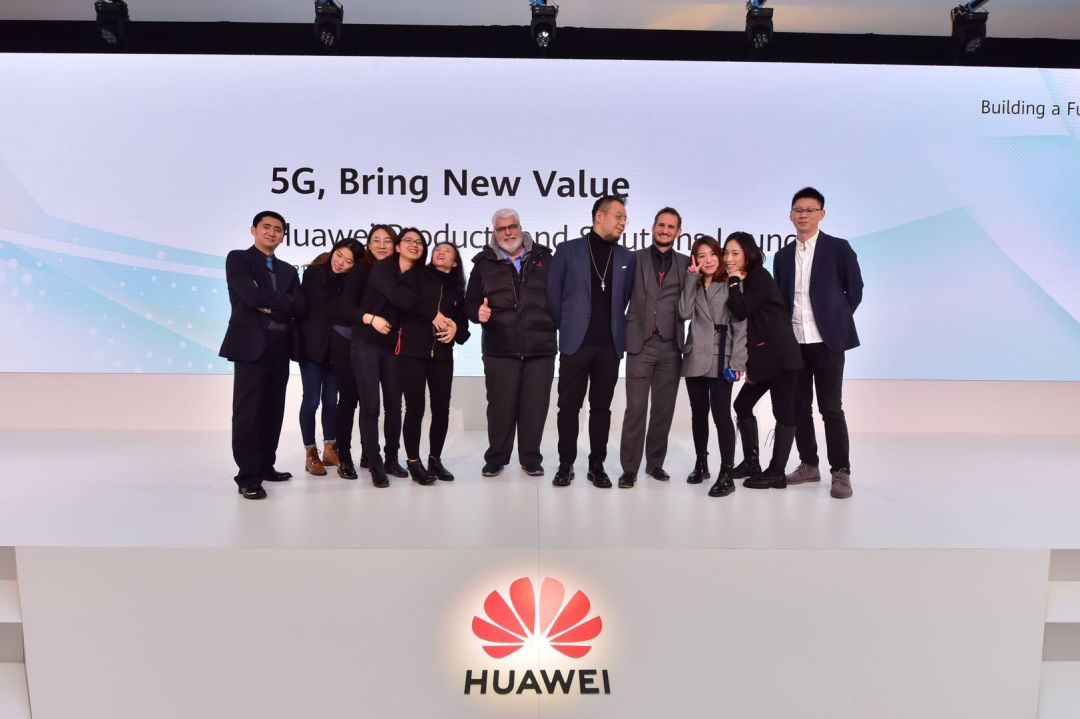 下了班就开始疯狂的THP Family
离开伦敦的那天在机场下了场雨,雨过天晴,彩虹高挂,把它揣进口袋带回来。
The day we left London, it rained but the rainbow came out to say farewell at last. I put it in my pocket and brought it back home.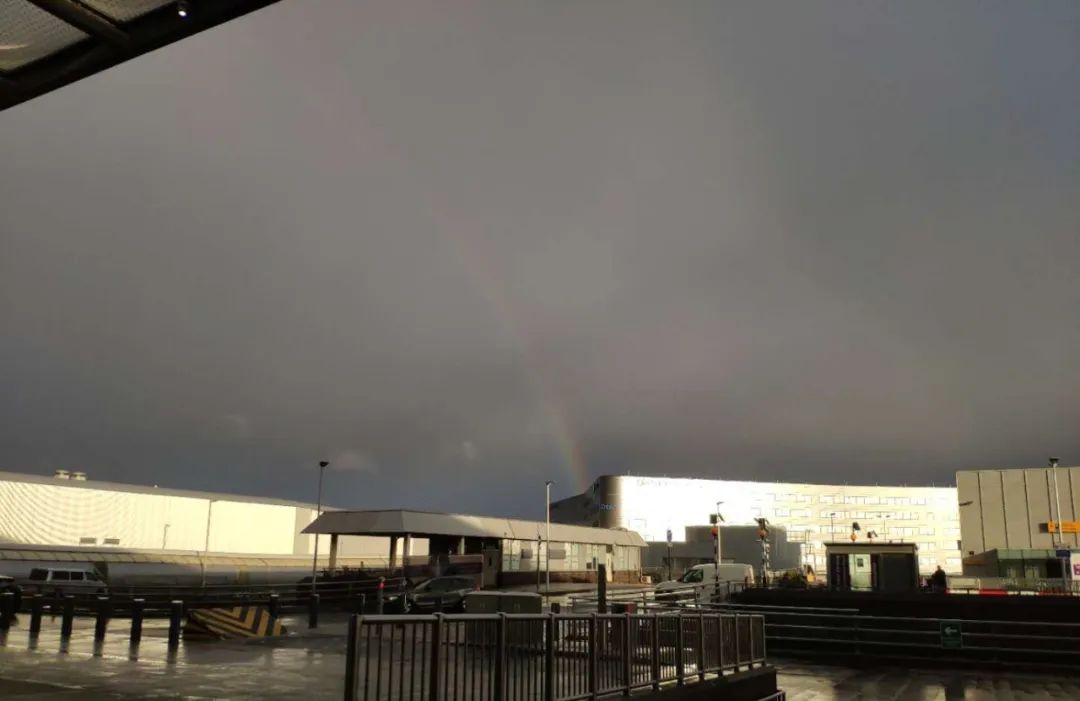 撰稿人:老干部
排版:Savannah
素材:老干部, Alex,Savannah, Lyra
审稿:Arthur