Roechling Tech Day
劳士领-蔚来 技术展
26 July, 2019 | Shanghai,NIO | China
7 月,上海酷热难挡,热浪连连。在炎炎夏日中上海蔚来大楼迎来了劳士领-蔚来技术展。
In July, Shanghai was sweltering with heat waves. In the hot summer of Shanghai NIO building ushered in Roechling-NIO Tech Day.
劳士领是一家专业从事汽车塑料零部件设计企业。为客户提供包括气流、热能、流体管理设计,声学设计以及轻量化功能集成设计在内的一站式解决方案。
Roechling is a professional automotive plastic parts design enterprise. It provides customers with one-stop solutions including airflow, thermal, fluid management design, acoustic design and lightweight functional integration design.
本次技术展劳士领携汽车空气动力学系统,自动驾驶清洗和冷却系统及轻量化工艺及结构件等解决方案亮相,并与蔚来智能电动汽车公司交流探讨汽车技术趋势,致力于创造更美好,更可持续的明天
Roechling led the aerodynamics system,advanced active cleaning system and cooling system, lightweight process and structural components and other solutions to present at the tech day. Roechling also communicated with NIO intelligent electric vehicle company to discuss the automotive technology trend, committed to creating a better and more sustainable tomorrow.
当天,蔚来和劳士领企业高层和技术精英,进行深入的技术沟通及思想碰撞,共同探寻新的合作机会与行业可持续发展的新途径。
On that day, the enterprise executives and technical expertise of NIO and Roechling gathered for an in-depth thought collision to explore new business opportunities and new ways of sustainable development of the industry.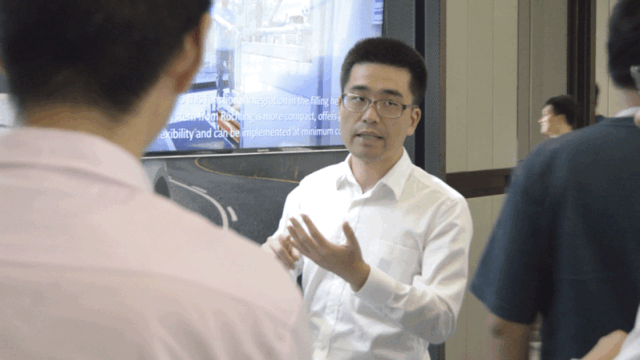 当日,劳士领就核心产品开展了2场技术讲解讲座。吸引了众多蔚来技术人员的参与和积极讨论。
On that day, Roechling held two technical lectures on core products. Lectures has attracted a lot of NIO technical personnel to participate in the discussion.
现场,劳士领展示了传统产品如主动式进气格栅,底盘护板,冷却系统,电池轻量化罩盖等,同时还向观众详细介绍了最新前沿产品如空气动力学主动式前唇,自动驾驶清洗系统。
On the spot, Roechling leaders presented traditional products such as active grille shutter, underbody panel, cooling system products, battery cover, etc. They also introduced to the audience the latest innovation including active speed lip and advanced active cleaning system.
展区分为3大板块,从空气动力系统,动力总成系统,新能源展现劳士领最新技术研究成果及解决方案。
The tech day area is divided into three sections, from the aerodynamic system, propulsion, new mobility to show the latest research results and solutions of Roechling collar technology.
蔚来是劳士领全球体系内重要的战略合作伙伴之一,劳士领一直重视与蔚来的合作。
NIO is one of the important strategic partners in the global system of Roechling, and we have always attached great importance to the cooperation with NIO.
THP为本次展会设计了H5系统帮助劳士领更好的了解参展人员。在技术展之前发送邀请涵预热展会。来宾们需要注册报名确认观展,并能提前在系统上看到展会议程,了解展会内容,合理安排时间。
THP designed H5 system for this exhibition to help Roechling better understand exhibitors. We sent the invitations before the tech day to warm up the exhibition. Visitors need to register and register for the exhibition, and can see the exhibition agenda on the system in advance, understand the content of the exhibition and arrange their time reasonably.
通过问卷调查的形式来收集蔚来职员对劳士领的交流反馈,帮助他们更好的成长。最后来宾们可以参与抽奖活动,把展会气氛推向高潮。
Through the form of questionnaire survey to collect weilai staff's communication feedback to labor leaders to help them better grow. At the end, guests can participate in a lucky draw to bring the exhibition atmosphere to a climax.
即使酷热炎炎,也挡不住各行业人士参与的积极性。本次技术展共有近400位NIO职员参加观展,现场互动积极热烈。
Even the weather is very hot, it can not block the enthusiasm of people to participate. Nearly 400 NIO staff participated in this technology day, and the on-site interaction was positive and enthusiastic.
本次技术展在热烈的气氛中圆满落幕。THP 成功地交付了一场"火热"的技术展,帮助两家企业通过技术交流,建立更进一步的战略合作关系。

The tech day ended in a warm atmosphere. THP successfully delivered a "hot" technology show to help the two companies build a further strategic partnership through technical communication.
让我们敬请期待更红火的8月的TGIF以及9月的工博会展吧~

Let's look forward to TGIF in August and the CIIF in September~
编辑&撰稿:Yui Man
摄影:Migo Hu
审稿:Arthur Zhang